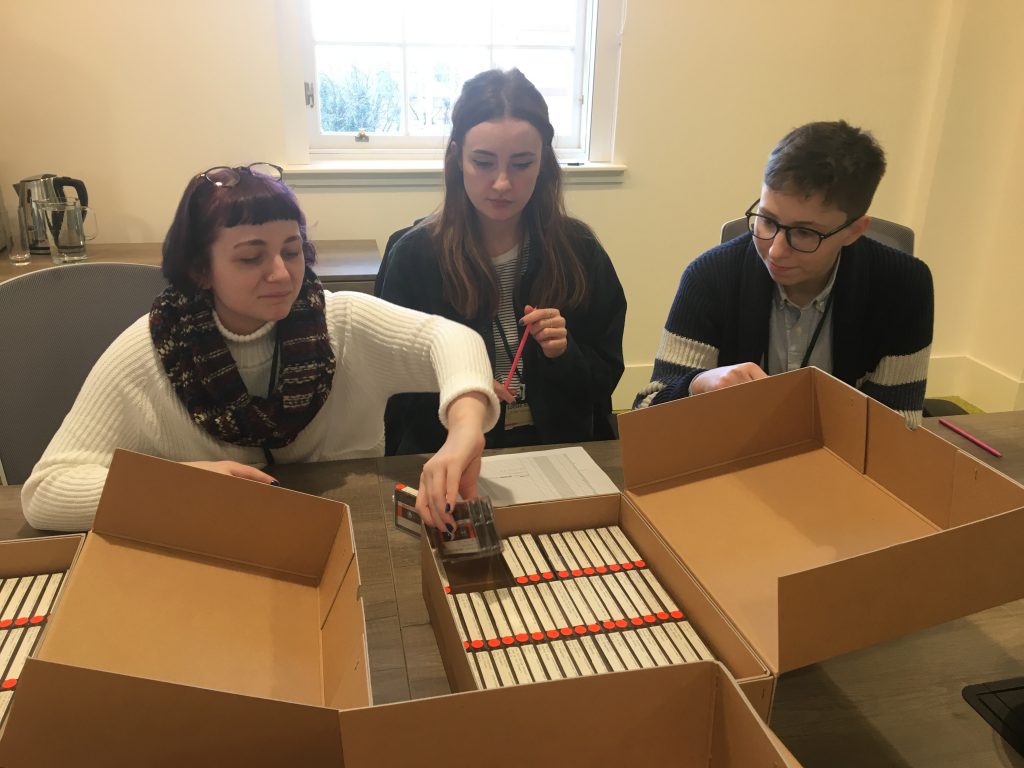 October 2019
A new cohort of volunteers started with us at the Kelvin Hall on the 19 September and are working on creating oral history summaries for a collection from Museums and Galleries Edinburgh.
We have two volunteers from our first cohort of volunteers, who have come back again to work with us, and they are completing catalogue records for a music collection from Western Isles Libraries and an oral history collection from the National Museum of Scotland.
With the start of the new academic year, we have a student placement from the University of Strathclyde, who is working on the cataloguing of a discreet collection, the Scottish Theatre Archive, which has been brought in from the University of Glasgow.
We are looking forward to welcoming a student placements from a variety of places including the University of Glasgow and the Royal Melbourne Institute of Technology in Australia.
April 2019
Volunteers give helping hands (and ears) to the UOSH Project
Our first UOSH volunteers started back in January and have been a fantastic group of 6 volunteers, either currently studying or recently graduated and looking to develop skills and knowledge in sound archives. They have been learning how to digitise and catalogue audio material, as well as research some of the recordings that have been digitised. They have also undertaken some curation training and are each producing a small-scale curated project for us.
The team have just started working with a second cohort of volunteers who have come from the Department of Works and Pensions (DWP). This cohort will also be assisting us in content research – listening to digitised recordings and recording information from or about those recordings. DWP volunteers are part of a scheme where they will be donating 10,000 hours to community charities or special projects and we are delighted that 11 volunteers have chosen to come and give their time to our project.
Our volunteers have already had a huge impact on our project and we look forward to keeping you up-to-date with the continued contribution of our volunteers throughout the Project.
January 2019
Our first cohort of volunteers have recently started at the Library working with the UOSH team, they will be with us every Thursday for 12 weeks.
The volunteers will undertake; materials handling training, inventorying, photographing, cataloguing to level 1 (basic information), digitisation preparation, content research, curation training and the opportunity to curate a piece of their own for a blog or social media, keep a look out.