by Jeni Park, UOSH Project Manager
The following is part of series for World Audiovisual Heritage Day 2020, where people were given the opportunity by the Unlocking Our Sound Heritage team at National Library of Scotland to listen to recordings that they had not been able to listen to for a long time, asking them to reflect on listening in to the past.
In the 21st century it seems almost run of the mill to send a voice clip from your phone, however 70 years ago the opportunity to visit a recording studio and record sound to send to distant relatives was an exciting prospect.
Today I have had the opportunity to speak to Margaret* about her experience of doing just that, and the associated reminiscences the recording prompted.
The year was 1950 and Margaret's Aunt Agnes was part of a teacher exchange programme and went to live and work in Bermuda for a year, which was later extended to three years. In the run up to Christmas, the family decided to make their own record at Larg's in Dundee. Margaret thinks they may have seen an advert about it in the local newspaper.
Larg's was primarily a music shop, selling new and second-hand instruments, accessories, sheet music and records. It is fondly remembered by Dundonians as the place to be, whether you were a musician, aspiring to be one or just liked music. In the 1950's they set up a studio for the recording of instantaneous discs.
An instantaneous disc was intended to be a quick method of recording and replaying sound for radio or as the initial recording that would then be mastered into a vinyl disc. Although the recording equipment was quite bulky, it quickly became popular for the general public and could be seen at the fair or on the pier. This allowed ordinary people to record a kind of audio postcard, a song for your sweetheart or, as in Margaret's case, Christmas Greetings to be sent to a family member on the other side of the world.
Most of the family arrived in the family car 'Suzie', Margaret recalls her mother joking that Suzie's bigger successor should be named 'Susan'.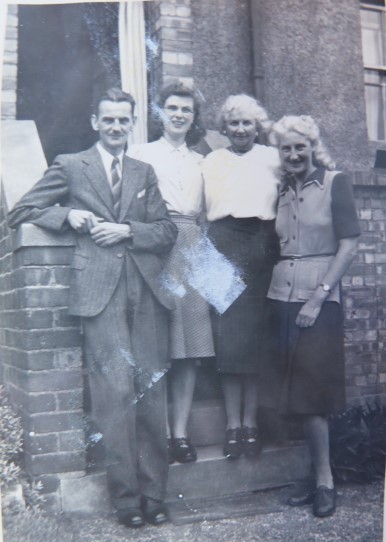 When they arrived at Larg's they were shown into the recording studio. They stood in a circle around the microphone, which hung from the ceiling and to 5-year-old Margaret it seemed very high up. Margaret thinks that everyone else in the family had written scripts and perhaps read from them on the day, but she hadn't started school yet, so she had to learn hers off by heart. Because of this Ethel and Winnie sound much more formal than she remembers them sounding, and she thinks that perhaps Granny might have said less than she meant to.
Margaret explains that she felt both excited and a little nervous at the prospect of doing the recording, as they only had one attempt to get it right and everyone had to say their piece within a short time limit. Here she explains the pressure and the relief
I asked about Aunt Ethel and her attendance of the Angus Ball and Margaret recalls that though the women in the family enjoyed Scottish Country Dancing, it wouldn't have been Aunt Ethel's usual scene and that it was probablya special memory for her to have mentioned it in the recording.
When they took the record home, they were not able to listen to it before sending it away as they didn't have a gramophone.
When Aunt Agnes received the record, which took many weeks to make the journey from Dundee to Bermuda, she was only able to listen to it once because it made her feel homesick. It was only after Aunt Agnes had passed away that the recording was found again. Margaret believes she understood how her aunt felt as she had some trepidation about hearing the voices of those no longer with us.
Recorded sound can be an emotional medium but hearing everyone start to laugh at the end of the recording made her smile, making it a happy memory.
Margaret is looking forward to playing the recording for her granddaughters who think it is cool to be able to hear their granny's granny. The experience has made her want to tell her grandchildren the importance of recording people rather than just snapping a photograph. There is something far more tangible and memory-inducing about being able to hear someone's voice and it brings back many memories.
*Margaret's family wished to withhold their surname.