There are a number of websites giving access to some of Scotland's sounds online.
If you'd like a flavour of what's available have a listen in to Scotland's past via our 2-minute Sounds like Scotland animated mixtape. It features clips from 12 audio collections held across the country from Lewis to Aberdeen and from Inverness to the Borders. The archive recordings span from 1909 to 2017 and were made on a host of weird and wonderful formats – wax cylinders, wire, shellac discs, open reel tape, cassettes and digital media. Enjoy birdsong, music, spoken memories and more…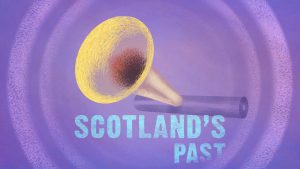 With warm thanks to the collections who shared these recordings for the Sounds like Scotland animation:
Sound design: Steve Urquhart 
Animation: Iain Gardner, Animation Garden
We have also created a 30-minute Sounds Like Scotland radio programme for art radio station Radiophrenia, which was broadcast on 10 November 2017. Have a listen in! In addition to the recordings above, we have also included
Mixed-genre recordings
Tobar An Dualchais (partnership between School of Scottish Studies Archives at the University of Edinburgh, BBC Scotland, and the National Trust for Scotland's Canna Collection)
Am Baile (Highlife Highland)
Scots Language Centre (Scots Language Centre)
National Piping Centre – Noting the tradition
Cultural Equity – Alan Lomax recordings collection (includes some recordings from Scotland)
Bristish Library – Sound collection (includes many Scottish recordings)
Oral history
Dumfries and Galloway (Regional Ethnology)
NEFA – North East Folkore archive (with Formartine oral history archives)
Scran (oral history section)
Gathering the Voices (testimonies from those who sought sanctuary in Scotland from nazi persecution)
Music
USCB Cylinder Audio Archives (American archives with some Scottish recordings linked below)
Urban and environmental soundscapes
Above is just a starting point – there are lots more online sound recordings which we won't know about yet! Please email Amy on a.mcdonald@nls.uk to suggest further links.